I hope you are enjoying the 3-day weekend (Japan).
Our weekend has been shorter than yours, but I still had a good run, Friday playing for the Dam-Funk show, Saturday spending all night with my friends at Febo and last night celebrating my friends marriage.
I grabbed this snap on Saturday for
our instagram - with a catchy caption, so go and check it
:
The caption and Friday's funk fuelled party got me feeling like this:
Yup and the synchronicity continues as on Saturday morning I woke up and remembered I had rented Star Wars episode 4:
I definitely agree that there is a force that runs through everything in the entire universe, the Chinese called CHI, the Japanese call KI and in Hindu tradition PRANA.
Later on that day, I ended up randomly visiting Mitsukoshi in Nihombashi and was taken back by this huge structure in the main hall:
On closer inspection I found this pattern within in the marble:
Yup a Torus, or a spiral of life as apparently everything in the Universe flows in this is way:
Which got me to thinking a bit about my journey up until now: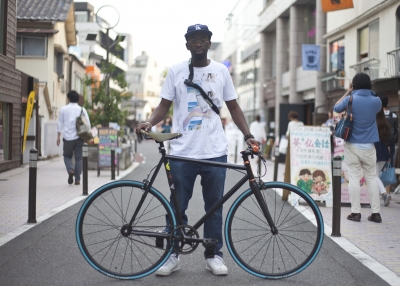 At this point my thoughts are to simply keep on using my force to experience my road!