So I guess we can call it Summer now?
Have you ever ridden a bike during July and August in Tokyo?
If you have you'll know it's not the best of seasons for riding
(apart from at night)...so I got to thinking about the types of
preparation we might need before hitting the streets...
I asked my riding partner what he felt he needed when
hitting the Tokyo streets in the heat.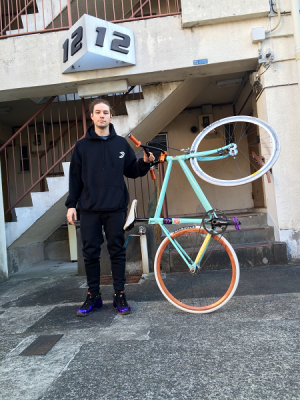 He put together a rather unconventional list which is the
exact reason I asked him, the list goes:
Camel back - For serious riding...
Thank you google... but I think he means this:
Gatsby Paper - This one is Japan specific, but depending on how
sensitive you skin is...
Fishing vest - To keep all those gadgets and stuff in place...
Sun screen - I guess this does not apply to me but a no
brainer really...
We both agreed that a towel is the ONE essential item
that everyone needs though...
Especially if you have a lot of sweat glands!
Other preparations are making sure you carry out
your bike's maintenance more regularly... as I did last
Monday.
I started with my tires; since one of the worst things I
can imagine is having a puncture in the blazing summer
heat...then having to push or carry my bike to my
bike to my destination...
NO way... keep that PSI up there and tires like rocks
I keep mine at around 11psi, so whenever I hit ride
over stones or debris they simple get pushed away.
Ensuring that most of the moving parts are in working
order by first removing my rear wheel:
The main purpose was to actually check the function
of my cog AND to give it a clean...
And to also grease it...
I also removed the nuts that keep the wheel attached to
the frame, as I felt the nuts closer to the hub (black thing)
were too loose....
After tightening them I gave the wheel a good spin to
check for any strange noises and make sure the wheels
spin smoothly...
They did!
Re-fitting my rear wheel to my bike I wanted to make
sure that I put it back in center...
Notice the space to the left and right side of the wheel...
I use that space to identify if my bike's wheel is in the
center or not... at the same time as doing this I make
sure the chain has the right amount of tension....
You could do all the above steps by yourself, but if this is
all sounds foreign to you, then take your bike to your local
mechanic for a service and check up...you won't regret it.
I also gave my bike a good clean so that I could do this ...
You would too knowing that your bike is in top condition
and ready for the road.
That said I'll leave you know with the latest NCA show by
our distant friend Brassfoot:
See you on Friday!